2017 OMA Tourism Awards 
On April 24, 2017, members of the Sarpy, Pottawattamie and Douglas county tourism communities gathered for the Omaha Metropolitan Area (OMA) Tourism Awards. The ceremony celebrated front-line employees who go above and beyond to make the Omaha metro area a great tourism destination.
More than 15 million people from all over the world visit our area annually, and those visitors spend more than $1 billion in our hotels, restaurants, attractions and retail shops. Visit Omaha, Sarpy County Tourism, and the Council Bluffs Convention and Visitors Bureau proudly recognized the more than 18,000 employees who work in the hospitality industry and honor their outstanding acts of customer service.
Please see the list below for the esteemed winners.
 
Outstanding Service in Hotel Operations

Winner: David Geyer with Hilton Omaha
David always goes above and beyond in his role as Security Supervisor at Hilton Omaha especially when it has to do with U.S. Veterans. With David's leadership, Hilton Omaha is proud to say that veterans now make up 6% of its staff. (PICTURED: Omaha Mayor Jean Stothert presenting award to Gordon Humbert - Hilton Omaha General Manager, accepting award for David Geyer)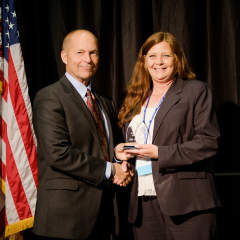 Outstanding Guest Service in a Hotel

Winner: Chris Waltermire with the Hampton Inn in Bellevue
Chris works in Guest Services and has been with the Hampton Inn in Bellevue for 8 years. She is credited for being the reason guests come back to the hotel time and time again. (PICTURED: Sarpy County Commissioner Jim Warren presenting award to Chris Waltermire)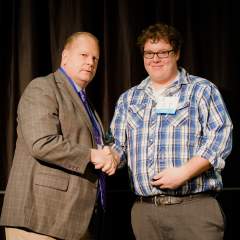 Best Heart of the House (Restaurant or Catering)

Winner: Daniel Stout with Uncle Buck's Grill in Bass Pro Shops
Daniel has been a line cook at Uncle Buck's Grill since 2011. He has led the team in events such as Taste of Omaha, Westfair, and Taste of Elegance – the Iowa Pork Competition. Daniel's culinary expertise and drive for quality, appearance and consistency has instilled pride in the entire team. (PICTURED: Council Bluffs Mayor Matt Walsh presenting award to Daniel Stout)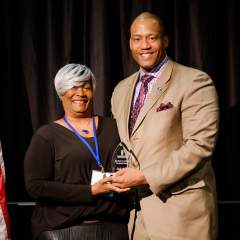 Best Front of the House (Restaurant or Catering)

Winner: Linda Austin with the Institute for the Culinary Arts
Nominated by four different people, Linda has been employed at the Institute for Culinary Arts since 2003. Linda goes far beyond the call of duty with her love of her customers, tireless pursuit of perfection, un-changing exuberance for her job, encyclopedic knowledge of names and faces, and by making all of the folks at the Institute laugh with her comedic honesty. (PICTURED: Douglas County Commissioner Chris Rodgers presenting award to Linda Austin)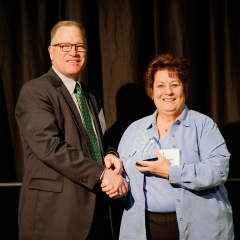 Outstanding Service in Attraction Operations

Winner: Lindsey Ussery with Papio Fun Park
Even as a "newbee" in 2011 Lindsey was able to look above the basic answer or task and see the overall picture of what needed to be done. In an often times hectic environment, Lindsey always keeps a sense of calm, allowing the guests to focus on having fun. Lindsey is admired by all members of the Papio Fun Park team as a true role model. (PICTURED: Sarpy County Commissioner Don Kelly presenting award to Margaret White - Papio Fun Park Manager, accepting award for Lindsey Ussery)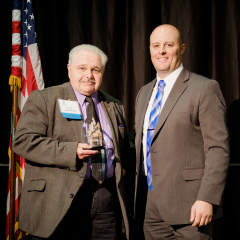 Outstanding Guest Service at an Attraction

Winner: Carl Overfield with the Joslyn Art Museum
Carl has served as a Visitor Services and Protection representative at Joslyn for 14 years. Men who work at Joslyn's admission desk are required to wear ties. Carl does not wear just any tie, he wears art-inspired/artistic ties and will often wear themed ties that reflect Museum events or exhibitions. The ties are conversation-starters and incredibly effective at getting new visitors chatting and feeling comfortable. (PICTURED: Pottawattamie County Supervisor Justin Schultz presenting award to Carl Overfield)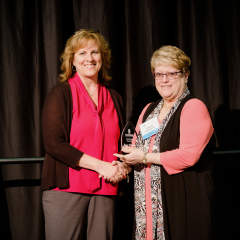 Outstanding Volunteer at an Attraction

Winner: Peggy Woltman a volunteer with the Papillion Community Foundation
Peggy Woltman has been a staple of the Papillion Community Foundation for the past 10 years, and has served as board treasurer for the past eight years. In 2013, Livability.com named Papillion Days as one of the Top Ten festivals in the country. This recognition is due in part to the time, effort and care that Peggy puts into her volunteer efforts for the Papillion Community Foundation and Papillion Days. (PICTURED: Douglas County Commissioner Mary Ann Borgeson presenting award to Peggy Woltman)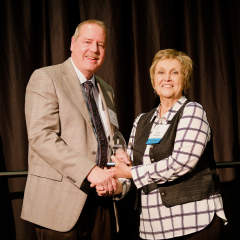 Outstanding Customer Service in a Retail Outlet

Winner: Diane Hileman with The Durham Museum
As the Retail Operations Manager at The Durham Museum for ten years, Diane has transformed the shop and Soda Fountain from a novelty - only open sometimes - to an integral part of the Durham experience. (PICTURED: Council Bluffs CVB Board Member Monty Terhune presenting award to Diane Hileman)
Brought to you by These Partner Destinations: