Omaha Day Trips
Do the Zoo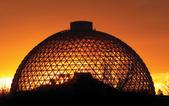 It's a great idea to devote an entire day to Omaha's internationally acclaimed zoological park, Omaha's Henry Doorly Zoo and Aquarium - it's the ultimate interactive zoo experience. 
The Desert Dome is the world's largest indoor desert under the world's largest geodesic dome. Walk through the deserts of the world and experience rare plant and animal life. Under the dome and below the surface, you'll find Kingdoms of the Night, the world's largest nocturnal exhibit featuring creatures that only come out at night.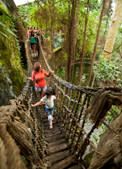 Take an expedition through The Lied Jungle, America's largest indoor tropical rainforest. Trek through dirt paths and listen to the roar of the waterfalls and the call of the gibbons from a jungle canopy. Discover rare and endangered animals as you travel to the world of giant Boabab trees.
Walk on the bottom of the ocean and come nose-to-nose with sea turtles as sharks circle above in the Scott Aquarium - a 1.3 million gallon saltwater experience.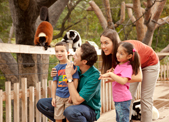 Expedition Madagascar includes a barrier-free lemur landing, which means you and exotic lemurs may cross paths on the boardwalk. 
Explore Hubbard Gorilla Valley and the Orangutan Forest where you'll quickly learn that the gorillas roam free and you are on display.
It's a day filled with adventure, exotic locations, and amazing animals. 
Step into History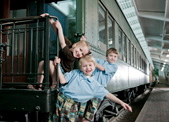 Take the day to discover all the history surrounding Omaha. Climb on board a steam train, take a look at one of the world's rarest coin collections, and enjoy an old-fashioned phosphate at an authentic soda fountain. The Durham Museum, Omaha's original art-deco train station, has been transformed into a vibrant museum where you can experience the region's rich history in a fun hands-on way.
Tour the expansive campus of Boys Town. The national landmark, museum, historic chapels, gardens, and Father Flanagan's home, are all preserved in time inside this world-renowned village. It's the stuff movies are made of and Hollywood did just that. Boys Town, the 1938 movie starring Spencer Tracey and Mickey Rooney, won an Academy Award, which you can see when you visit.
Catch the heritage of jazz in the historic North 24th Street neighborhood where Duke Ellington, Count Basie and others once played.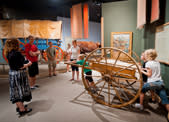 At the Mormon Trail Center, you can take a personal trip to the 1800s by experiencing firsthand the struggles and triumphs of the great Mormon Migration. Pull a handcart like pioneers did all those years ago and see what it was like to live in a make-shift cabin and travel by covered wagon.
The first Latino art and history museum in the Midwest, El Museo Latino is a cozy, culturally-intense center that is as authentic as the Latino restaurants and shops surrounding it. Historic South 24th Street is filled with Mexican tradition from murals on the buildings, folk art and pottery, to authentic cuisine and some of the most unique pastries you'll ever taste.
Natural High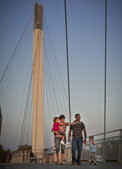 Spend a day enjoying nature in a different way. A walk on the Bob Kerrey Pedestrian Bridge is like walking on art suspended over the Missouri River. This one-of-a-kind 3,000 foot-long suspension bridge provides an almost air-borne experience. Stand in the middle, and you'll be standing in both Nebraska and Iowa at the same time. Bob connects more than 150 miles of walking and biking trails.
Lauritzen Gardens is an urban oasis with more than 100 acres of botanical beauty including a Victorian Garden, a rose garden, and a four-acre arboretum. You can even watch as model trains travel twiggy trestles in the model railroad garden or check out the real thing – Lauritzen is also home to two of the most powerful locomotives ever built.
The Keystone Trail meanders along 27 miles of the Papio Creek. And Omaha's four lakes - Cunningham, Zorinsky, Standing Bear, and Lawrence Youngman - offer fishing, boating, and recreational activities all year long.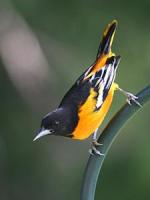 TreeRush Adventure Park at Fontenelle Forest is an aerial amusement park suspended over 6 acres, where visitors ages 4 to 94 can explore the forest from the treetops. It's a natural rush and a fun way to experience the great outdoors. 
Located along the wooded Missouri River valley and along a main migratory path, it only makes sense that the Omaha area is a birding hotspot. Spring and Fall are peak seasons but because the area offers diverse bird habitat - lakes, prairies, woodlands, and riverbanks - you will find a wide variety of bird species most any time of year. Look for the yellow-billed cuckoo in the summer, the dickcissel in May, the tufted titmouse in November and pelicans have been known to stop over around Easter.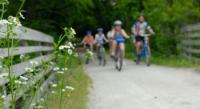 Get your heart rate up on the Taco Ride - the country's longest-running weekly bike ride. From early spring to late fall join hundreds of riders as they make a 10-mile journey to Tobey Jack's Mineola Steakhouse, known for their Thursday night taco special. The Wabash Trace Nature Trail is full of cyclists enjoying the beauty as well as the festive party atmosphere.

Tubing and Tanking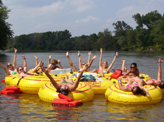 Forget the boat, - try tubing and tanking down the scenic Elkhorn River. Which should you choose? It depends on how wet you want to get. With tanking, you float down the river in an 8- foot diameter stock tank fitted with custom made picnic tables. With tubing, you are a little more intimate with the water, sitting in commercial-grade inner tubes with your feet and other body parts dangling in the river. Both offer a fun way to float the day away and enjoy the outdoors
Spend the Day Wine-ing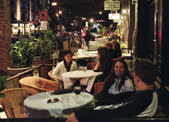 A wonderful way to savor the day is with wine. Just a short drive from Omaha you will find some of the Midwest's finest wineries, known for their distinctive and award-winning flavors. Enjoy wine tours, tastings, and entertainment, as well as beautiful views of the countryside - just follow the Southeast Nebraska Wine Trail - make a day of it or several. Inspired by French cuisine, La Buvette is a retail wine shop, wine bar and restaurant - choose from more than 100 bottles of wine and enjoy it with small plates of smoked salmon, prosciutto, rillettes, and foie gras. Other toast-worthy spots include Soaring Wings Vineyard, Corkscrew Wine & Cheese, and Nosh Wine Lounge... the wine list goes go on and on and...
Adventure at Exit 426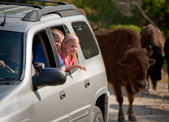 Just a short drive west of Omaha, you'll find adventure at Exit 426. Go on safari - Nebraska style - at the Lee Simmons Wildlife Safari and Conservation Park, a four-mile, drive-through wildlife experience. It's a great way to see, bison, elk, cranes, pronghorn antelope, and other native animals as they walk right past or up to your vehicle. You can also get out and hike to wolf and bear canyon and climb the nature trails surrounding the park's lake.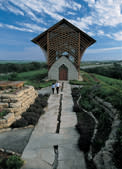 After the safari, drive across the road and off to space. The Strategic Air & Space Museum is a 300,000 sq.ft. museum dedicated to the nation's most prized and rarely displayed military aircraft. Experience the future of aviation and space travel, walk through two aircraft display hangers and see Looking Glass, VooDoo, the Delta Dagger and more amazing flying machines.
From space to serenity, as you head back to Omaha for the night, you'll notice a stunning glass chapel on a hilltop just off I-80. The Holy Family Shrine was created for travelers as an oasis for peace and tranquility. Two streams cut through the limestone that forms the floor and foundation of the chapel and its unique glass architecture with its curved wooden arches makes it a perfect place to stop and enjoy the beauty.
Saunders County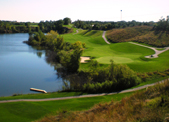 A short drive west of Omaha on Hwy 92 will take you to picturesque Saunders County. Rural in nature peppered with Main Street appeal, history and surprises that seem to pop out of nowhere - like the home office of David Letterman, it's located in the small town of Wahoo, which is also home to the only submarine memorial in the country. Or follow an impulse, turn off the highway and discover Our Corner Cottage, an amazingly eclectic gift shop sprouting among the corn. Hidden away in the beautiful vistas of Saunders County is Iron Horse Golf Club, an award-winning course that Golf Digest considers one of the best. Just 20 minutes from downtown Omaha, Saunders County offers a peaceful day full of discovery