Spring Getaway in Omaha
Feed your enthusiasm for the new season in Omaha with a slew of fun things to do that lead to unforgettable experiences that come at you...from out of nowhere.
In spring we are ready to head outdoors–to admire the blooms, to people watch as we patio dine, to hit the road with our loved ones.
Signature Omaha events add flavor to the spring calendar. Omaha Film Festival every March showcases over 100 new films from more than 1,000 entries annually. In May, Cinco de Mayo invigorates the streets of South Omaha while The International Omaha, and the FEI World Cup in 2023, features elite horse jumping and dressage competition.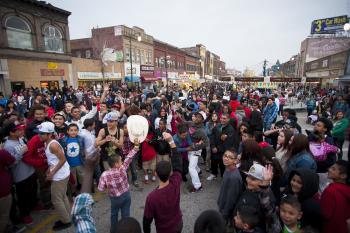 Spring's pleasant weather calls for adventure. Climb, zip, and swing through TreeRush Adventures at Fontenelle Forest, or go on a North American wildlife drive-through journey at Lee G. Simmons Conservation Park and Wildlife Safari. Blooming flowers will brighten your visit at Lauritzen Gardens, where colorful tulips and 500,000 daffodils burst with color in April. Just up the street, George Washington-inspired Mount Vernon Gardens features rows of rose beds and flowerbeds, and Gerald R. Ford Birthsite and Gardens' rose garden and colonnade, beautiful accompaniments to presidential mementos, begin to come to life. 
Lace up your walking shoes for a stroll on an area trail. Bob makes an ordinary walk extraordinary with his 0.9k marathon challenge. Head to an area lake; to make the experience extra special, order takeout from a local restaurant and enjoy a picnic lakeside.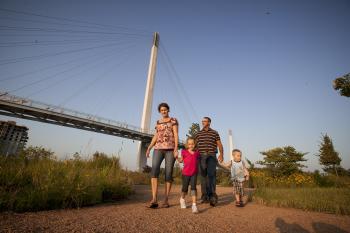 Speaking of food, dining out feels extra special when it's outside. Area restaurants with excellent patios for dining include La Buvette, Herbe Sainte, Gather in Omaha, The Switch, and Nicola's Italian Wine & Faire. Find plenty more outdoor dining options here. 
When you're actively looking for chance encounters and rare moments, some of the best memories emerge. In Omaha, be ready to experience joy from out of nowhere. For more ways to enhance your spring visit to Omaha, click here.
Click below to find unique things to do each month in Omaha.