What Omaha Tourism Looks Like
Tourism is an important economic engine for the city of Omaha.
When visitors come to town for a quick getaway, to attend a convention or to conduct business, they spend money in our community. The money visitors spend at our restaurants, attractions, hotels, retail shops and other enterprises contributes to our local economy, providing jobs and income, tax revenue, community development and other important benefits we all enjoy.
Visitors

In 2021, Omaha hosted 12.7 million visitors (95% of pre-pandemic levels). 5.76 million stayed overnight, while 6.95 million made a day of it.
Visitor Spending

With so much to see and do in Omaha, the total amount of visitor spending shouldn't surprise anyone. $800 million by overnight visitors and another $456 million by day visitors. All in all, this is 93% of pre-pandemic levels.
How the Visitor Dollar is Spent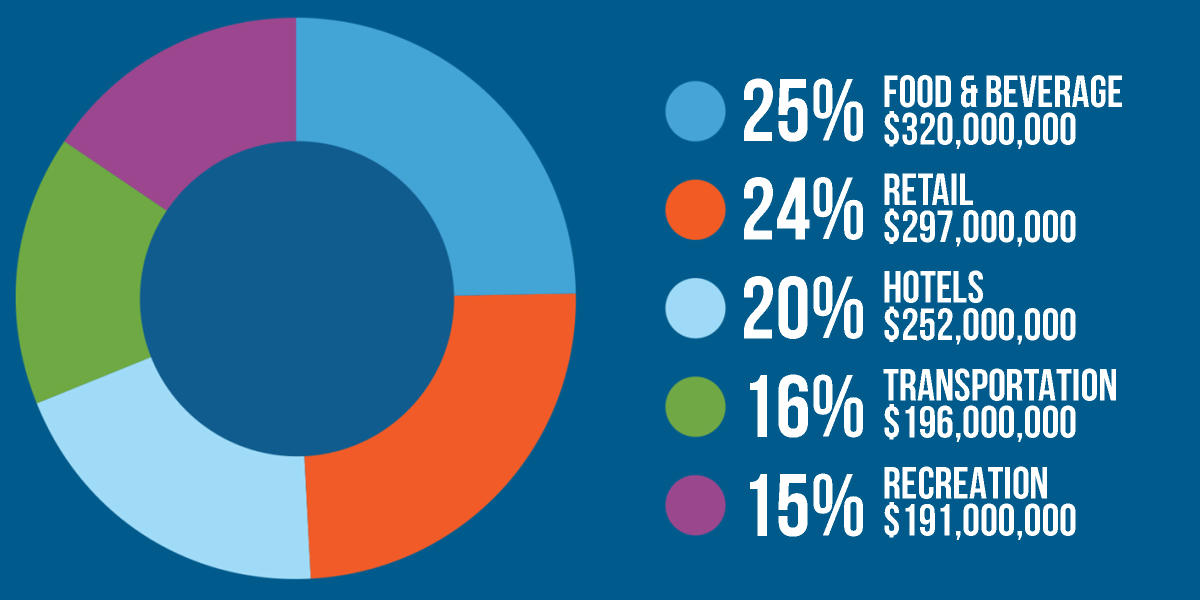 Here's how visitors spent their money at a glance. The positive economic impact of Omaha tourism can be felt throughout the city.
Tourism Jobs

From wait staff to small business owners to city services, tourism means jobs. In fact, tourism is the 9th largest employer in Omaha. One in thirty jobs is supported by visitor spending.
Tourism and Local Residents

Taxes generated by visitor spending save each Douglas County household $700 per year. Without tourism, your taxes would go up or the current level of government services would go down.
Tourism Tax Revenue

Each year, tourists generates 264.5 million dollars of tax revenue. Here's the breakdown: $110.1 million in federal, $73.5 million in state, add $80.9 million in local taxes.
Source: Tourism Economics - An Oxford Economics Company