Fall Getaway in Omaha
Fall's a race to squeeze in all the autumn fun and feels that lead to those unforgettable experiences that come at you...from out of nowhere.
As the trees change and the temps cool, a number of spooky and cozy-fun autumn attractions offer nostalgic ways to soak up the season. On your way to Omaha, be ready and willing to seize the unpredictable moments that pop up thanks to the new experiences travel creates.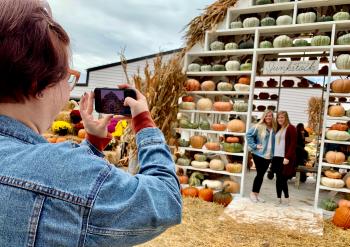 Get a big taste for fall during a signature Omaha event. Pick sunflowers and zinnias at Vala's Pumpkin Patch during its annual Cider and Sunflower Festival every September. Omaha's original vintage Junkstock is in spring and fall and features junk and vintage vendors and artisans from across the country.
Area attractions bringing the fall fun include Vala's Pumpkin Patch & Apple Orchard, an autumn amusement park with more than 50 attractions and shows. Skinny Bones Pumpkin Patch offers a rural-rustic autumn adventure with old-fashioned fun. Berry-picking in summer leads into pumpkin selecting in October at Old West-themed ranch Bellevue Berry & Pumpkin Ranch.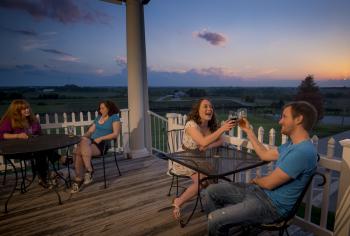 Enjoy your vino with a view at local wineries like Soaring Wings, replete with gorgeous hilltop views. Cellar 426's spacious deck offers commanding views of the valley below. Italian-inspired Bella Terre Vineyard welcomes wine lovers to the nearby Iowa countryside.
Glide through fall at one of many area ice rinks. Grover Ice, Moylan Iceplex and Motto McLean Ice Arena offer indoor public skating year-round–for visitors, an especially great activity for filling any two-hour gaps in your trip itinerary. Bonus: Many rinks are open major holidays.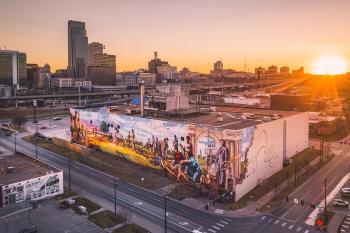 Fall's a great time to craft your own mural art tour around the city. See some of Omaha's most notable murals, including What Lifts Us and Fertile Ground. Find more area art here.
Click here for a list of pumpkin patches and haunted houses in the Omaha area.
Begin planning your family's fall trip to Omaha, where the only item left on your autumn bucket list will be a pumpkin spice latte (and honestly, we've got those too). Your fall memories await, along with the unexpected experiences that help to make them. 
Click below to find unique things to do each month in Omaha.