Winter Getaway in Omaha
This winter, make space in your itinerary to expect the unexpected and be rewarded with unforgettable experiences that come at you...from out of nowhere.
Wintertime in Omaha offers fresh opportunities for outdoor fun to liven the senses, cozy activities to warm the soul, and holiday events that invoke a sense of wonder.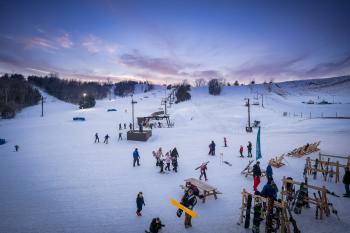 For heart-pumping snow adventures, hit the slopes for snowboarding, skiing, sledding, and tubing at Mt. Crescent Ski Resort. Go cross-country skiing or snowshoeing at one of Omaha's many parks. Or transverse Omaha's trails; Fontenelle Forest and Hitchcock Nature Center rent out snowshoes. Dress for the weather, and you'll be primed for fun. 
Some of travel's best moments can come when the creative juices are flowing. View work by more than 50 artists at the 92,000 sq. ft. Hot Shops Art Center, create a one-of-a-kind Omaha souvenir at The Makery, and pair wine with painting at The Corky Canvas. Get inspired as the latest fashions glide down the runway during Omaha Fashion Week, the nation's fifth largest fashion event every February and August.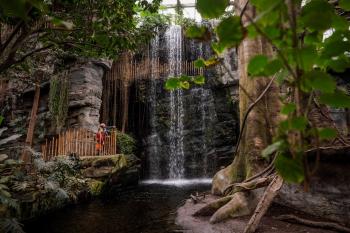 Warm up inside at Lauritzen Gardens, whose 17,500 sq. ft. conservatory is kept at a balmy 80 degrees; toast a s'more by the fire before you go. Omaha's Henry Doorly Zoo & Aquarium takes visitors on a tour to warmer corners of the world, from the Lied Jungle's rainforests of South America, Asia, and Africa to the Desert Dome's toasty deserts of Africa, Australia, and North America. Pack your swimsuit for Holiday Bay water park at Holiday Inn Omaha Downtown, complete with a three-story water slide. 
Cozy up with a cup of joe at one of many unique coffeehouses. Amateur Coffee specializes in 100% vegan coffee, while science is at the heart of Archetype Coffee's delicious concoctions for connoisseurs. Local coffeeshop-bakery Hardy Coffee Co. has four area locations ready to serve your seasonal beverage of choice with a tasty pastry on the side.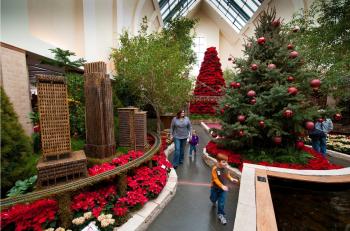 Mainstay holiday traditions add sparkle to the season. The citywide Omaha Holiday Lights Festival offers a lineup of festive events downtown and lighting displays throughout the city. The Durham Museum's Christmas at Union Station includes the region's largest indoor Christmas tree and an array of jolly events, and Lauritzen Gardens Poinsettia Show promises thousands of poinsettias bursting with rich, vibrant color. 
When you're open to seizing chance encounters and rare moments, some of the best memories are created. In Omaha, be ready to experience joy from out of nowhere. For more ways to create your winter or holiday adventure in Omaha, click here.
Click below to find unique things to do each month in Omaha.