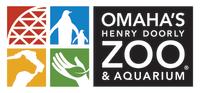 Contact:
Dawn Ream
402-738-2022
dawnr@omahazoo.com
OMAHA, NE (May 30, 2019)  – As Zoo-goers visit Omaha's Henry Doorly Zoo and Aquarium, they will see renovations taking place at the Suzanne and Walter Scott Aquarium. All renovations will be complete by May 2020.
Guest entries and exits in the Aquarium are going to change throughout the duration of the project based on the phase of construction. The Aquarium will remain open during the renovation
When renovations are complete, the Aquarium will have a redesigned façade. Brushed stainless steel will simulate waves in the ocean and cut metal panels will replicate coral. Lighting and sound will make the area come alive with realistic effects. The entrances to the Aquarium and the Aquarium Conference Center will both be better defined and include a 4-foot by 12-foot videoboard.
Sea Turtle Café will have digital menu boards, upgraded equipment and an additional concession window bringing the total number from four to five. The plaza area will be updated with tile and the underside of the canopy will be blue stainless steel that is dimpled to look like the surface of water.
Exhibit enhancements, filter upgrades, new carpeting throughout and renovated restrooms are also a part of the project.
The Suzanne and Walter Scott Aquarium was built in 1995 and includes animals such as penguins, tropical fish, coral, sea turtles, jelly fish sharks and a 70-foot tunnel which allows for underwater viewing. The Suzanne and Walter Scott Aquarium is the largest aquarium inside a Zoo.
--30--
Consistently ranked as one of the world's top five zoos, Omaha's Henry Doorly Zoo and Aquarium is an independent not-for-profit organization accredited by the Association of Zoos and Aquariums (AZA). As a leader in conservation, the Bill and Berniece Grewcock Center for Conservation and Research focuses on areas to benefit animal husbandry and species conservation. Focus areas include conservation genetics, conservation medicine, rare plant conservation, reproductive sciences and comparative nutrition. The Zoo is recognized nationally for its conservation, animal care and exhibit design. Omaha's Henry Doorly Zoo and Aquarium is located at Nebraska's I-80, 13th Street exit.
Click here for more information about Omaha's Henry Doorly Zoo & Aquarium