Heat up your date night with this selection of spicy dishes from Omaha restaurants featuring cuisine from Italian to Ethiopian – and more. 
Seafood Diavolo and Fried Spicy Calamari at Spezia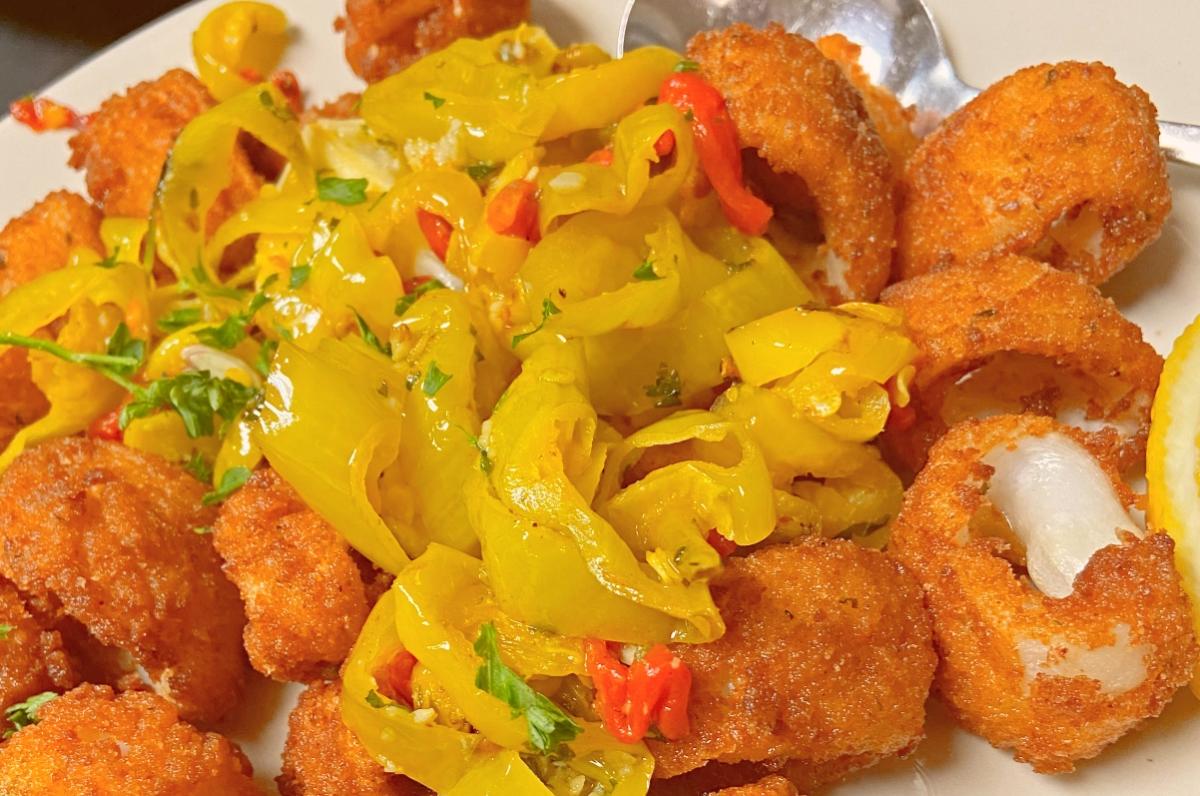 When considering ideas for a spicy bite, Italian may not be the first cuisine that comes to mind. But Omaha mainstay Spezia offers several hot options in a luxurious European setting. Start with drinks and Fried Spicy Calamari with pepperoncini, roasted red and banana peppers and olive oil butter garlic. Next, attentive servers deliver steaming plates of Seafood Diavolo – a dish brimming with shrimp, scallops and mussels in a spicy tomato sauce served over capellini pasta. The romantically lit environs, comfortable seating and buzzy mood in the dining room allow guests to savor each bite. Now that's amore! 
 
Boiled Sliced Beef in Hot Sichuan Sauce and Kung Pao Chicken at Blue & Fly Asian Kitchen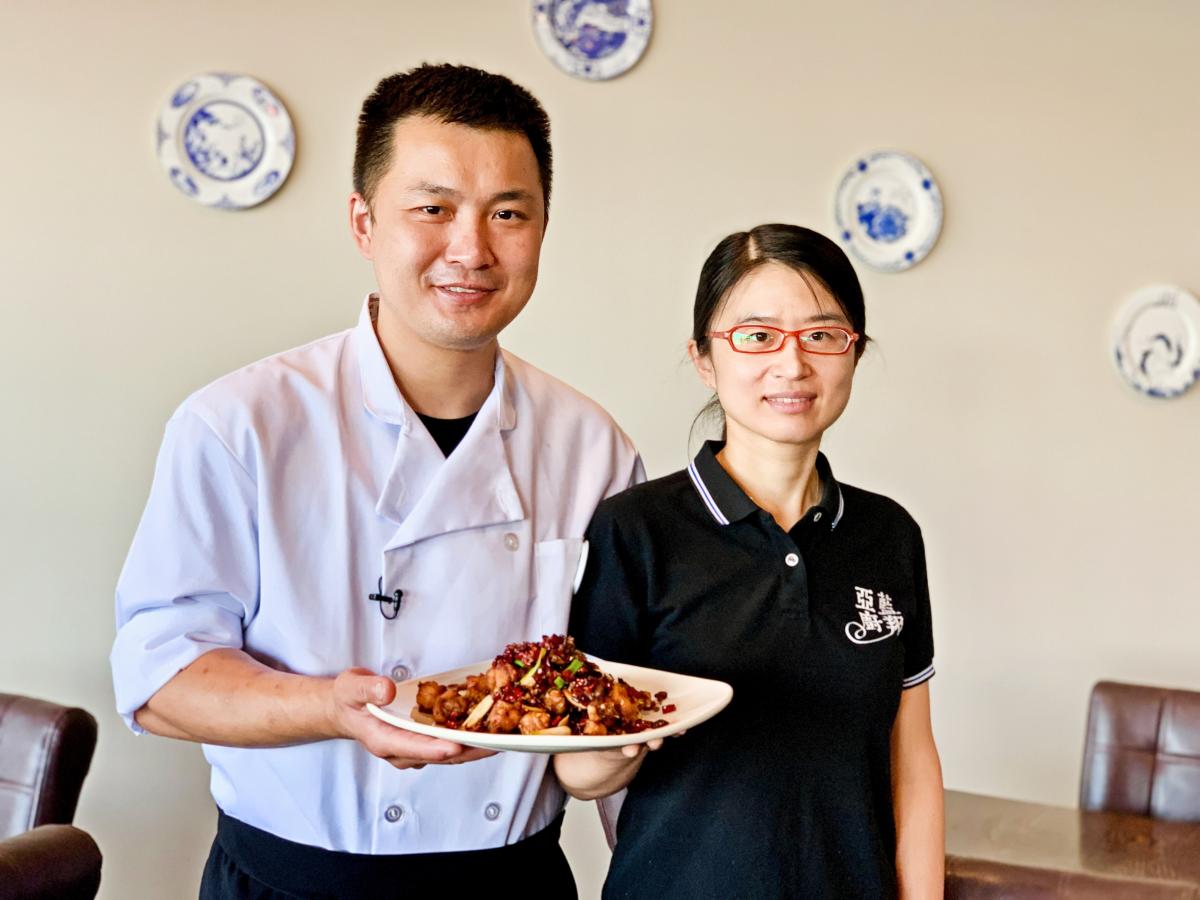 If you thought your mouth turned into a waterfall every time you looked at your date, wait until you take a bite of Boiled Sliced Beef in Hot Sichuan Sauce at Blue & Fly Asian Kitchen. The dish uses "mala" spice – a combination of Sichuan peppercorns, which provide the "ma," or numbness, and dried chilis, which provide the "la," or heat. The full-mouthfeel aromatic effect takes beef to the next level. (And it's equally good with fish, also offered.) Another classic dish, Kung Pao Chicken, is expertly done here, packed with fried chilis and peanuts, ginger, green onions and generous succulent morsels of chicken. A gallery wall with photos of wife-and-husband owners Sun Yi and Cong Yue showcases their love story. 
 
Combination Plate and Vegetarian Plate at Lalibela Ethiopian Restaurant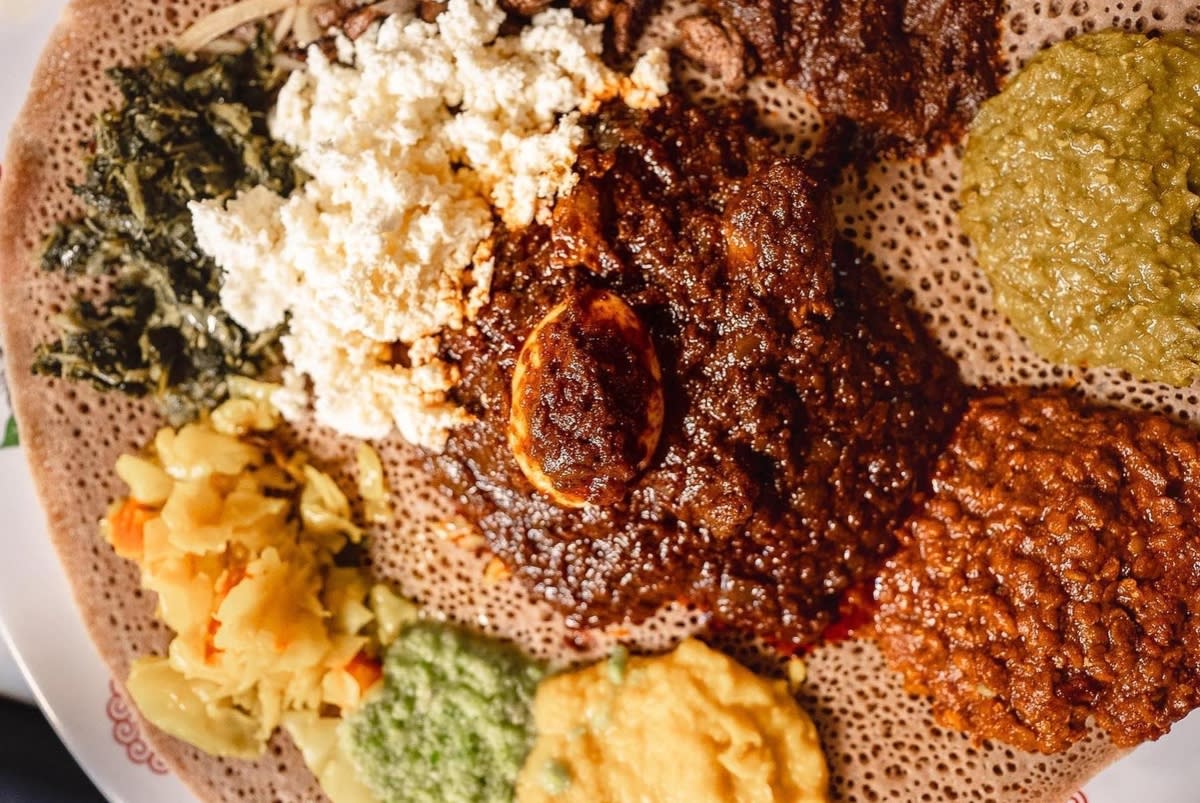 Your partner will be eating out of your hand at Lalibela Ethiopian Restaurant, located in an old Pizza Hut. Don't let the simple decor fool you – the food is intensely complex and robust and it's a unique dining experience. There are no utensils. Guests eat by scooping up food with injera, a fermented flatbread. Try a Combination Plate featuring a variety of meat and vegetarian dishes, including chicken in pepper sauce, grilled beef and vegetable dishes. Vegetarians rejoice in lentil, chickpea, cabbage and split pea stews. Fresh Ethiopian cheese helps cool the palate.
 
Kimchi Stew and Bibimbap at Korea Garden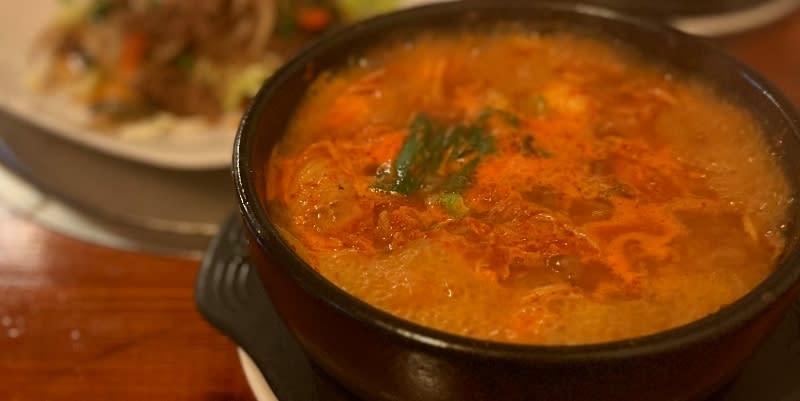 There's hot, and then there's hot. At Korea Garden, piquant Kimchi-jjigae, a soup made with spicy pickled cabbage, pork, tofu and green onions, is boiling in a stone bowl when your server brings it to the table. This savory, tangy stew takes the edge off a cold day so you can relax with your main squeeze. The rice dish Bibimbap also adds sizzle to the night. Served with vegetables, meat and a fried egg, it also arrives still cooking in a stone bowl. Stir it up and add gochujang, a Korean chili paste, to your preferred heat level. 
 
Lamb Shank Vindaloo and Saag Paneer at Kinaara 
It's said the best food is made with love. But what if love is also what makes the best restaurants? That's definitely true of Kinaara in Omaha's high-end shopping spot Regency Shopping Center. A few years back, Ashish Sathyan, a chef, and Kimberly (Harris) Sathyan, a UNO business school graduate, met in Omaha, her hometown. They discovered they shared a passion for India and its cuisine. Their restaurant Kinaara was born from this shared devotion to each other and the food. Now it brings the heat with dishes like Lamb Shank Vindaloo in a thick sauce of chilis, ginger and vinegar. Familiar dishes, like Saag Paneer, are also on the menu. Kinaara is a heart-and-belly-warming Omaha establishment. 
 
Voodoo Shrimp & Grits and Kickin' Chicken Pasta at Mouth of the South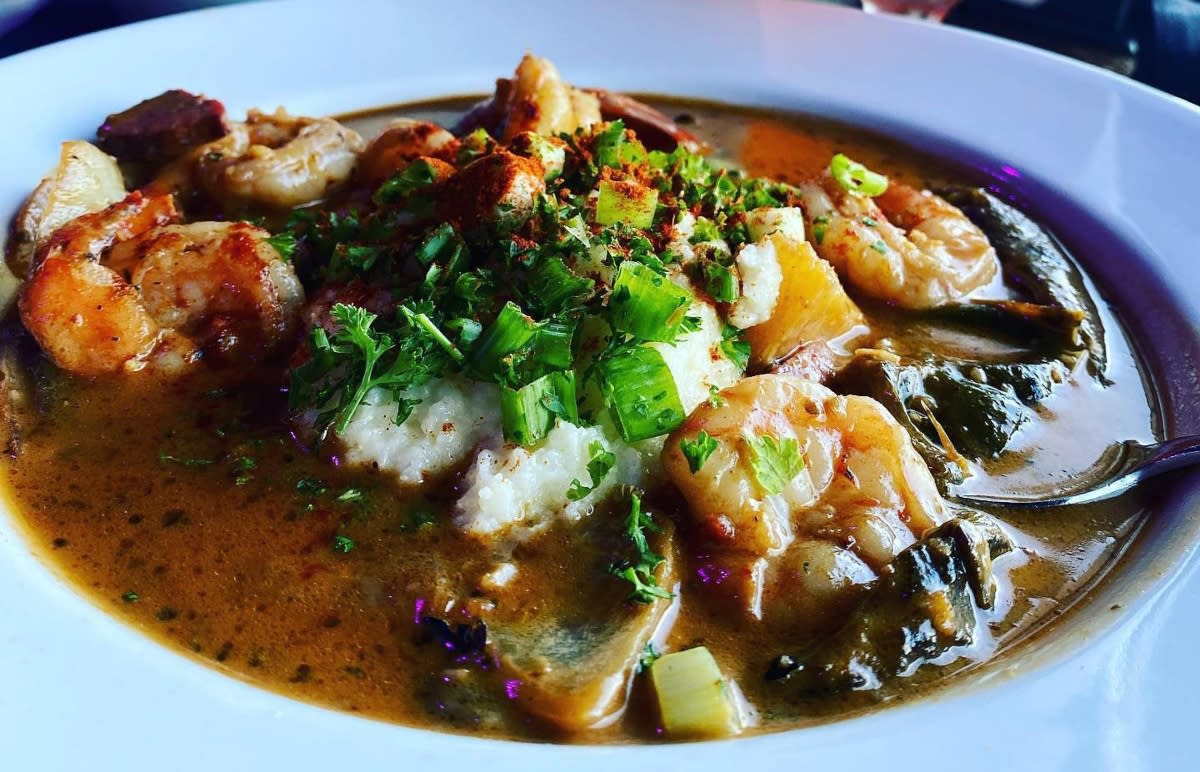 You're on a date in Omaha with someone you hope to impress, but how do you balance being smooth and hot? Take a note from Voodoo Shrimp and Grits at Mouth of the South. First, channel the earthiness of fine ground corn and the softness unlocked by simmering it. Then, add the fire. Shrimp and andouille sausage bubble in voodoo sauce. Hints of Aleppo pepper, garlic, peppercorns and mustard seeds envelop the senses. The creaminess of the grits is the perfect counterpoint to the savory  sauce and proteins. Or make like a local and order Omaha favorite, the Kickin' Chicken, a pasta dish with blackened chicken in a jalapeño cream sauce. 
 
Overnight Brisket Tacos, Beer Battered Cod Tacos with Spicy Remoulade and Jalapeño Margaritas at Hook & Lime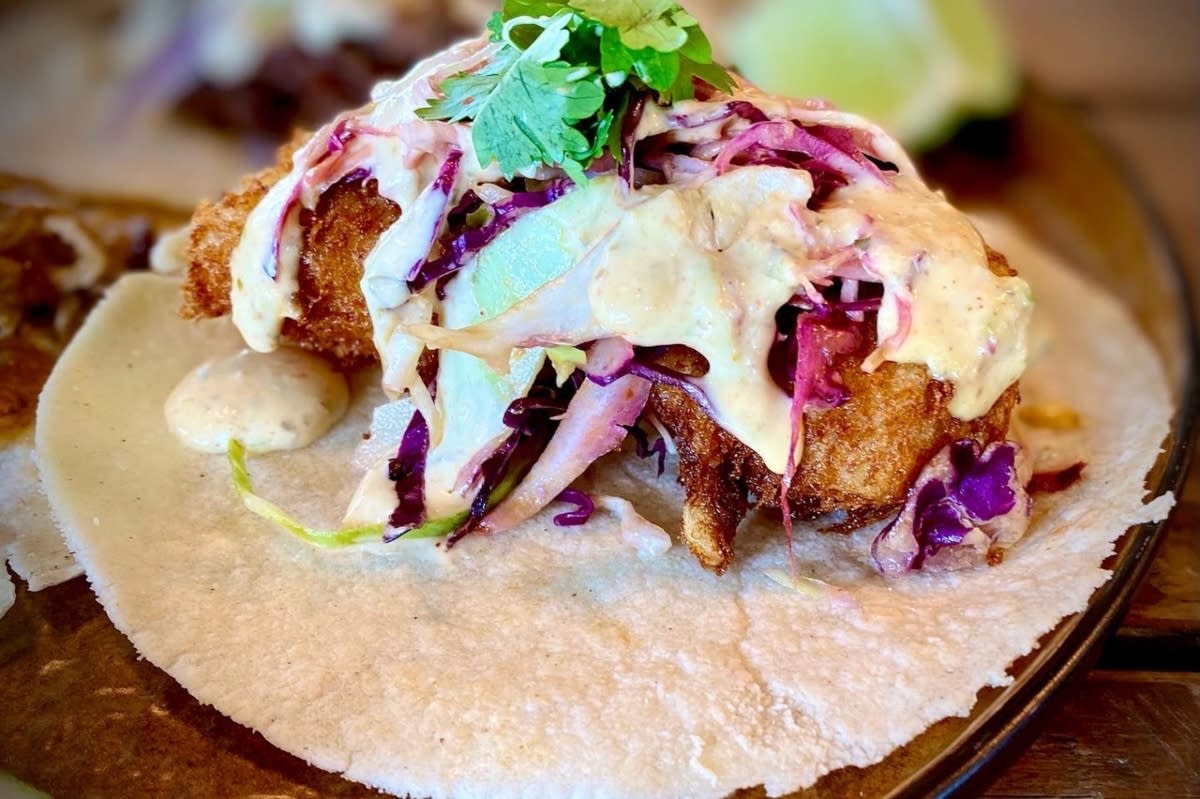 Hook & Lime, located in Omaha's invigorated North Downtown neighborhood, makes everything in-house – from fresh corn tortillas to overnight smoked brisket, salsas to liqueurs. Good. Because tonight in Omaha, you're going to lavish attention on your babe while this restaurant takes care of the rest. Start with a Jalapeño Grapefruit Margarita, a mix of infused tequilas and fresh grapefruit and lime juices. It's a sweet kiss with a bite. Overnight Brisket Tacos with chipotle aioli, pickled peppers, red onions and cilantro dazzle the taste buds. Beer Battered Cod Tacos with Spicy Remoulade provide a satisfying crunch. The restaurant's open modern interior lit by vintage bulbs and beautifully plated food demonstrate that no detail is too small to merit attention at this destination date spot. 
 
Green Papaya Salad and Pad Kra Pao at Salween Thai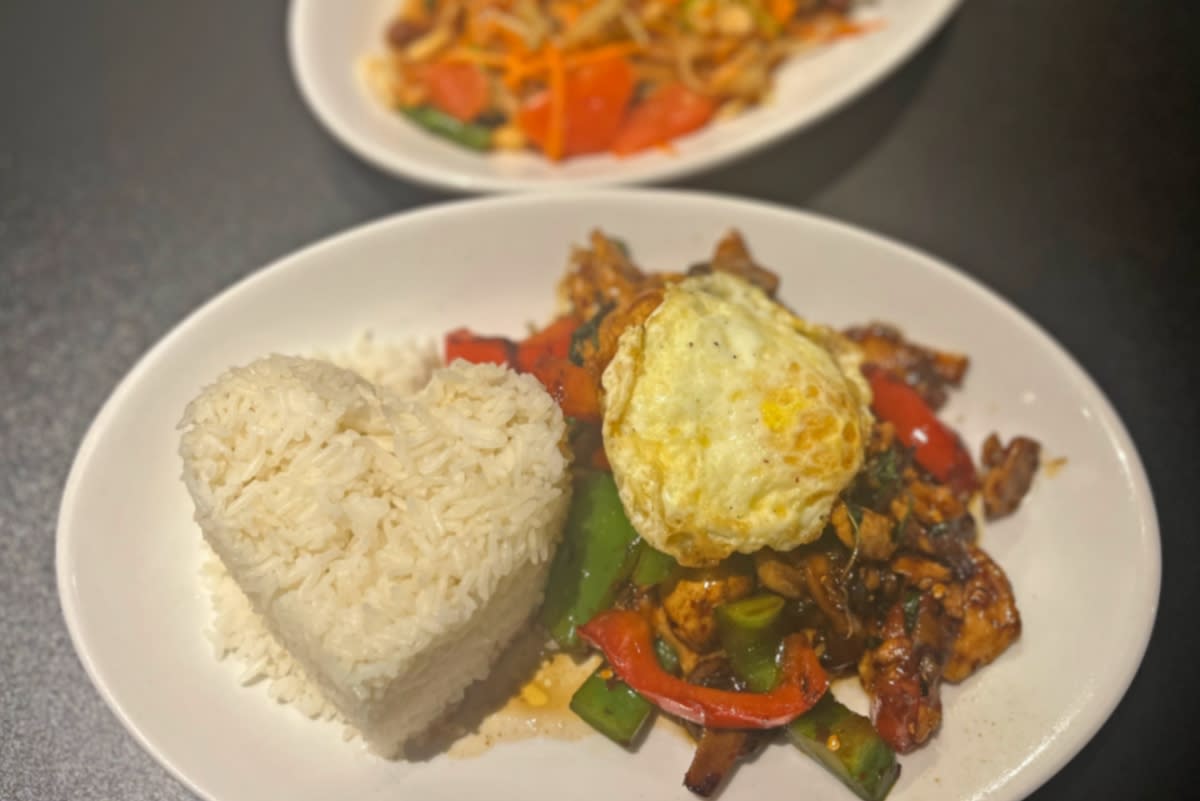 At Salween Thai, Green Papaya Salad provides a revving start to a fiery date. Zingy, salty, spicy and sweet, this traditional dish composed of shredded green papaya, cherry tomatoes, green beans, lime, chili, basil and peanuts is a colorful masterpiece that will bring a sweet flush to the cheeks. Next up, Pad Kra Pao, a stir fried dish made with protein of your choice, green and red peppers, and a generous handful of basil (an herb that just so happens to be an aphrodisiac) served with a fried egg on top. Tucked away booths provide an excellent place to snuggle in between courses. 
Are you fired up about your Omaha date night yet? For more dining and date night ideas to spice up your trip, go to VisitOmaha.com.