Splash Around in Omaha
As the weather heats up, it's time to find fun ways to cool down.
Omaha offers a wide range of splash pads, spraygrounds, and other water activities to keep the hot summer cool. Browse below for ideas on how to get wet in Omaha or check out the Omaha outdoors page for ideas on the dry side. Find additional information about public pools and lakes at the Omaha Parks Department.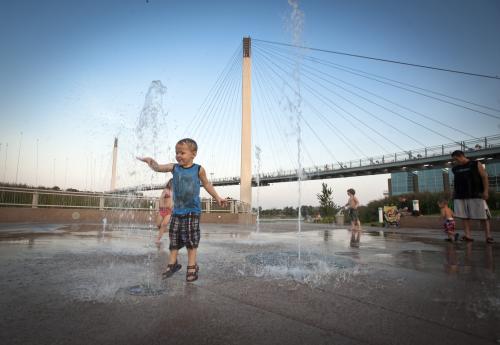 Omaha's many spraygrounds offer a fun and interactive way to find giggle-worthy fun throughout the city. Ten city spraygrounds are open 9:00am – 8:00pm daily, May 27th through Labor Day (weather permitting). A local fav can be found in Omaha's historic Benson neighborhood. The 3,250 sq. ft. padded area keeps families busy for hours with massive spray features decorated as cattails, insects, and flowers. Shaded picnic tables provide seating and an area to recharge. Another hot spot for keeping cool is at the base of Bob the Bridge. When "Bob" isn't tweeting, Instagraming, or making new entries in his video blog, he enjoys watching visitors jump and splash around the sprayers in the circular plaza. Out west, the ALLPLAY Complex is home to one of the country's best barrier-free sports complexes and an impressive splash pad with features that spray, drip, shoot, sprinkle, and mist water. Learn more about these and other Omaha spraygrounds from the City of Omaha Parks.

Alaskan Adventure
Located in the world-renowned Henry Doorly Zoo and Aquarium, this massive sprayground features dancing waters flying up among 75 bronze sculptures. Families run around an 18 ft. high humpback whale, 30 jumping salmon, 25 puffins, 15 sea lions, and more. A mix of water and air is arranged around the sculptures to simulate the water made by the animals as they breech, porpoise, splash, and spray.

Tubing and Tanking
For a more leisure water experience, try tubing and tanking down the Elkhorn River. To choose between the two, first determine how wet you're willing to get. Tanking entails riding in an 8-ft. diameter stock tank complete with custom made picnic tables, while tubing is more of an all-in experience involving sitting in commercial grade inner tubes and floating in the river.

Airboat Tours
Hop aboard an Airboat Tour for a different kind of river adventure. Take off on a 60 mph wind-in-your-hair trip down the Elkhorn River. Airboats comfortably and safely carry passengers in a movie-theater style seating so everyone gets a great view.

Paddleboard Adventures
Enjoy the water in a more active way with a stand up paddleboard. Driftwood Paddle Adventures and Neighborhood Offshore offer a variety of ways to explore Omaha's picturesque lakes. Yoga, tours, and other courses are available for every skill level.

Fun-Plex
Omaha's waterpark is filled with wet rides that zip, zoom, splash, and slide. Families can spend a day running through Fun-Plex hopping on slides, floating down the lazy river, flying down gigantic waterslides, and more.

Eugene T. Mahoney State Park
Nestled along the Platte River, Mahoney State Park offers a lush setting for a relaxing getaway. The 700-acre park offers plenty of warm weather activities like swimming, paddle boating, and fishing.