Walk On Bob
Bring your kids, your dogs, your bikes, your walking/running shoes and get ready to bring on the fun!  
Here's a map to find me. From there, check out more than 150 miles of walking trails (I don't recommend taking on all 150 miles at once unless you're on a bicycle, segway or something with wheels). Don't forget to strike a pose while standing in two states at the same time; I call it "Bobbing" – it's a thing and it's awesome. After all that "Bobbing" and walking, you'll work up an appetite. Be sure to look below for restaurants located near me.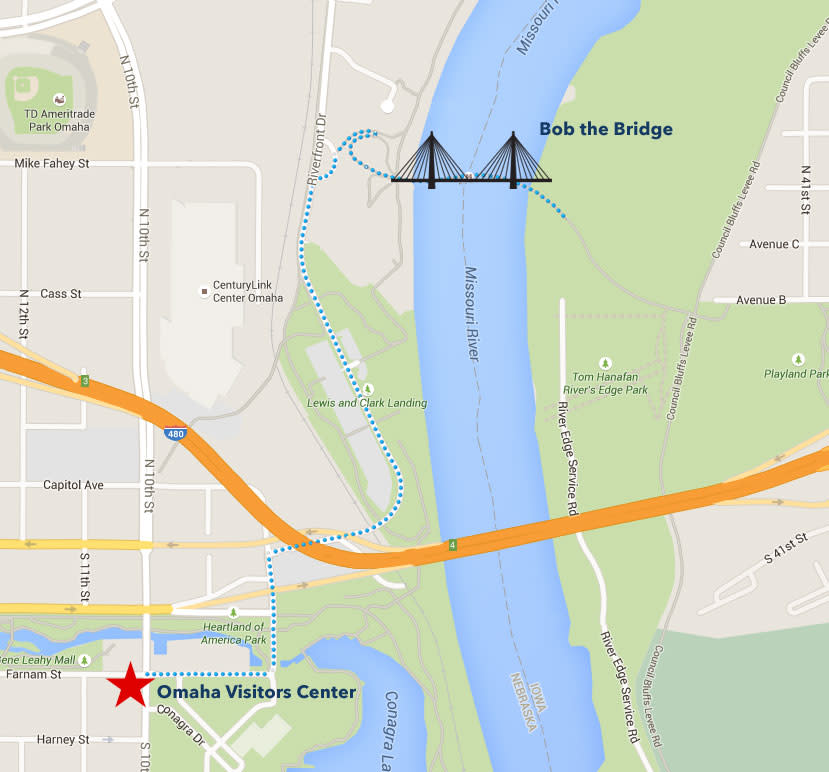 Tip: Park for free at the National Park Service Midwest Region building. It's my next door neighbor. Or park anywhere in the Old Market Entertainment District and ask a local to point you my way, it's only about a 10 minute walk.
---
Dining Near Bob
You've probably heard all about Omaha's culinary scene but here's a recap: Billionaire Warren Buffett pretty much lives here for the steaks, the Reuben sandwich was invented here (I don't care what the Brooklyn Bridge says) and we have a 4.5 lb. burger that turns big burly men into drooling toddlers. That's just the beginning; scroll below to see the food near me.