2018 OMA Tourism Awards 
On May 9, 2018, members of the Sarpy, Pottawattamie and Douglas county tourism communities gathered for the Omaha Metropolitan Area (OMA) Tourism Awards. The ceremony celebrated front-line employees who go above and beyond to make the Omaha metro area a great tourism destination.
More than 19 million people from all over the world visit our area annually, and those visitors spend more than $1 billion in our hotels, restaurants, attractions and retail shops. Visit Omaha, Sarpy County Tourism, and the Council Bluffs Convention and Visitors Bureau proudly recognized the more than 18,000 employees who work in the hospitality industry and honor their outstanding acts of customer service.
Please see the list below for the esteemed winners.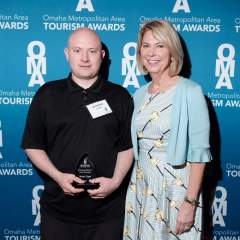 Outstanding Service in Hotel Operations

Winner: Jimmie Logan from Holiday Inn at Ameristar
While Jimmie's official role is banquet set-up, he is known to help out across all departments whenever there is a job that needs to be done. On any given day, you may find him in the maintenance department helping with hotel renovations, or assisting housekeeping with shampooing carpets, or working in the kitchen preparing food for Guest Appreciation Night. He is always in a great mood and is great with guests. (PICTURED: Omaha Mayor Jean Stothert presenting award to Jimmie Logan)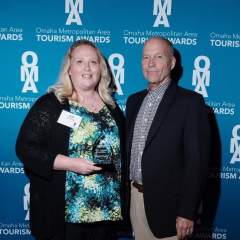 Outstanding Guest Service in a Hotel

Winner: Elizabeth Dueling with the Best Western Plus Omaha Airport Inn
Elizabeth started as a desk clerk in 2014 and quickly moved her way up to Director of Sales. She understands what it takes to find new business clients and to keep their loyalty. She enjoys working one-on-one with local companies to meet their lodging needs, as well as partnering with them for community events. Each time a new employee joins the team, Elizabeth takes time to give them a property tour and answer any of their questions. She wants every employee to know they are part of a team and she is there to help when needed. (PICTURED: Sarpy County Commissioner Jim Warren presenting award to Elizabeth Dueling)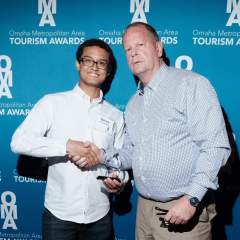 Best Heart of the House (Restaurant or Catering)

Winner: Darien Christensen from Embassy Suites, La Vista
Darien first joined the Embassy Suites La Vista team as a student intern in Embassy's Project SEARCH class, a program for special needs individuals. The hands-on approach to learning was a perfect fit, and Darien was hired immediately after graduation, joining the kitchen team as a Line Cook. In his first solo experience manning a carving station, he did what comes naturally, he was both friendly and welcoming, earning a tip of $100 from one of the customers! Darien is always willing to change his schedule, come in on his day off, or stay late. His work ethic, desire to please, and willingness to help the team have placed him into a leadership position where he now coaches the new Project SEARCH interns. (PICTURED: Council Bluffs Mayor Matt Walsh presenting award to Darien Christensen)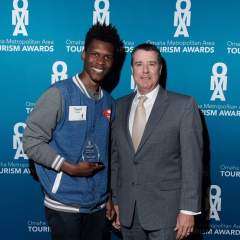 Best Front of the House (Restaurant or Catering)

Winner: Terrell Taylor from Element Omaha Midtown Crossing
Terrell is the consummate hospitality professional, going out of his way to ensure that all guests are not only satisfied but provided a memorable experience. The hotel receives numerous emails, survey responses, and online praises regarding his excellent service. Terrell is instrumental in driving loyalty to the hotel and helping to gain repeat business. In recognition of his efforts, Terrell was awarded the hotel's 2017 Employee of the Year. (PICTURED: Omaha City Councilmember Brinker Harding presenting award to Terrell Taylor)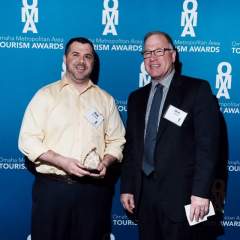 Outstanding Service in Attraction Operations

Winner: Matt Burcham with Metropolitan Entertainment & Convention Authority
As Director of Event Operations, Matt successfully coordinates large scale events such as the Berkshire Hathaway Shareholders meeting, the College World Series, the U.S. Olympic Swim Trials, and just about every concert that happens at CenturyLink Center Omaha arena. In his nine years at MECA, Matt has earned a national reputation as a true professional in the industry and is known by employees to be a steady, reliable and a guiding force during chaotic events. (PICTURED: Sarpy County Commissioner Don Kelly presenting award to Matt Burcham)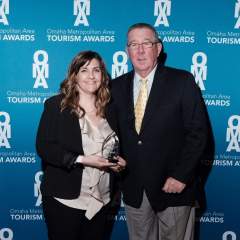 Outstanding Guest Service at an Attraction

Winner: Rachael White with the Mid-America Center
As the Food and Beverage Manager, Rachael has made it her responsibility to ensure that the client experience is one that they will talk about and cherish for years to come. Rachael has a knack for making customers feel as if they are her only client. She has introduced new procedures that help the team complete their jobs in a more efficient manner, and she has been instrumental in restructuring the food and beverage department to provide better leadership and support.(PICTURED: Chairman of the Pottawattamie County Board of Supervisors Tom Hanafan presenting award to Rachael White)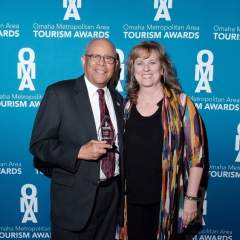 Outstanding Volunteer at an Attraction

Winner: David Johnson Sr.
David works as a Downtown Ambassador during the summer months in the Old Market offering maps, directions, and recommendations to locals and out-of-town visitors. He has been an Ambassador for ten years for the Omaha Downtown Improvement District and has served on the board. David has also volunteered at the Orpheum Theater and CenturyLink Center. You will even find him dressed-up as the "Cat in The Hat" handing out candy at the Old Market Fall Festival as well as reading to the kids in the community. (PICTURED: Douglas County Commissioner Mary Ann Borgeson presenting award to David Johnson Sr.)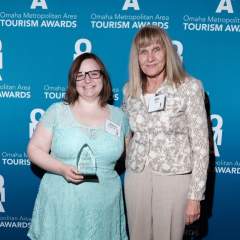 Outstanding Customer Service in a Retail Outlet

Winner: Sierra Salgado Pirigyi
Sierra brings love and care to every part of her job. She organizes book groups, coordinates more than 90 community events for non-profits, and supports Urban Abbey's Sunday communion services. Sierra also organizes the Old Market clean-up days out of the Urban Abbey's retail coffee shop, and knows just the right gifts, books, or coffee to suggest for guests visiting the shop. She also knows how to cater to the smallest of Old Market guests as Sierra can often be found reading to a small child while mom takes moment to browse the shop or to enjoy a quiet cup of coffee. (PICTURED: President of the Board of Directors for the Council Bluffs Convention and Visitors Bureau Deb Bass presenting award to Sierra Salgado Pirigyi)
2018 Tourism Hero of the Year
WINNER: JACK DIESING JR.
Jack's enormous impact on the industry is evident through his many years of volunteer service in the community. Since 1989, Jack has served as President of College World Series of Omaha, Inc., the local non-profit volunteer committee that coordinates community support, activities and ticket sales for the series. Currently, Jack serves as chairman of the Greater Omaha Chamber's Sports Council and as a Chamber board member. A few of his past civic duties include: Chairman of Omaha's Henry Doorly Zoo & Aquarium's Membership Drive, Boys Town Booster Club Board member, and Metropolitan Entertainment Convention Authority (MECA) Board member.
(PICTURED: Sarpy County Tourism Director Fred Uhe, Metropolitan Hospitality Association President Amy Pittman, 2018 Tourism Hero of the Year Jack Diesing Jr., Visit Omaha Executive Director Keith Backsen, Council Bluffs Convention & Visitors Bureau Executive Director Mark Eckman)
CHECK OUT THE VIDEO BELOW HONORING JACK DIESING JR.
Brought to you by These Partner Destinations: