2019 OMA Tourism Awards 
On May 8, 2019, members of the Sarpy, Pottawattamie and Douglas county tourism communities gathered for the Omaha Metropolitan Area (OMA) Tourism Awards. The ceremony celebrated front-line employees who go above and beyond to make the Omaha metro area a great tourism destination.
More than 19 million people from all over the world visit our area annually, and those visitors spend more than $1 billion in our hotels, restaurants, attractions and retail shops. Visit Omaha, Sarpy County Tourism, and the Council Bluffs Convention and Visitors Bureau proudly recognized the more than 18,000 employees who work in the hospitality industry and honor their outstanding acts of customer service.
Please see the list below for the esteemed winners.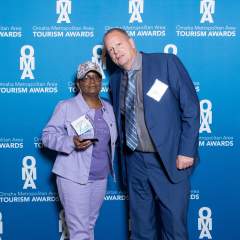 Outstanding Service in Hotel Operations

Winner: Raymelle Buxton Johnson with Double Tree Hotel
Raymelle has been a team member at the hotel for more than 33 years. She is known for taking good care of guests as if they were her own family and engaging them in real, genuine conversation about their stay. But Raymell's enthusiasm spreads beyond the guests, she is also known for her passion in helping team members grow. In fact, the engagement of other employees is known to increase when they work with her. Dependable, engaging, efficient and always on time are all words used to describe Raymelle. (PICTURED: Council Bluffs Mayor Matt Walsh presenting award to Raymelle Buxton Johnson)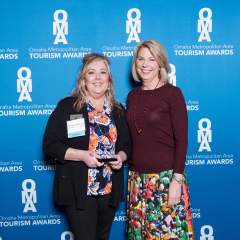 Outstanding Manager of the Year

Winner: Christine Patterson with Microtel Inn & Suites
Christine has been with the hotel since day-one when it opened 10 years ago. She quickly climbed the ladder from Executive Housekeeper, to Director of Sales and is now the General Manager of the property. Staff members say they have learned a lot from her, and they are happy she's the boss. Christine's leadership stretches beyond the hotel property – with the recent historic flooding, she authorized an extremely low rate so those impacted by the floods had an affordable place to stay. She also got out from behind her desk and handed out flyers to families in the affected areas. (PICTURED: Omaha Mayor Jean Stothert presenting award to Christine Patterson)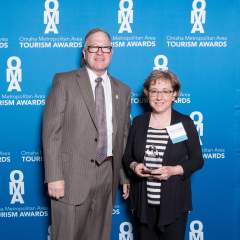 Outstanding Customer Service in a Retail Outlet

Winner: Danette Van Epps with Chocolaterie Stam
Danette has been on the job for almost ten years, making sure the service is as sweet as the confections she sells. Danette is always looking for things that need to be done around the store, and has an endless bank of new ideas to make the team and products even better. She is viewed as an honest, conscientious employee who is always out in the community promoting the store and its products – a natural born marketer w ho can satisfy everyone's sweet tooth. (PICTURED: Commissioner Don Kelly, Chair of the Sarpy County Board presenting award to Danette Van Epps)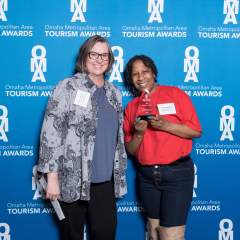 Restaurant/Catering - Best Front of the House

Winner: Loretta Ashley with Liberty Tavern at Hilton Omaha
From the second she answers her room service call, Loretta looks for ways to make every guest's in-room dining experience special. From birthday celebrations to bringing soup and hot tea to guests not feeling well, she will find any way possible to make sure their needs are being met. Recently, when a family of 5 wanted to go to Omaha's Old Market Entertainment District, Loretta drove them and happily agreed to provide them a tour of the downtown area. She made such a strong bond with the family that she was invited to be in all of the family photos that day during the tour. (PICTURED: Patricia LaBounty, Vice President of the Board of Directors for the Council Bluffs Convention and Visitors Bureau presenting award to Loretta Ashley)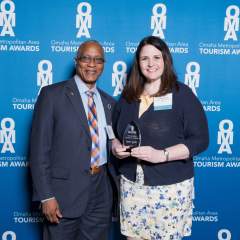 Outstanding Guest Service at an Attraction

Winner: Cindy Vanek with Omaha Performing Arts
Cindy Vanek's voice is the first thing people hear when they call Omaha Performing Arts. As office coordinator, she fields hundreds of questions from community members and visitors – sharing information such as how to buy tickets, parking options as well as hotel and restaurant suggestions. She strives to make sure anyone visiting the Holland Center or Orpheum Theater has the best experience possible. Cindy also finds time to volunteer at Jazz on the Green, Cinco de Mayo, the U.S. Olympic Swim Trials, U.S. Figure Skating Championships and Vala's Pumpkin Patch during the fall season. (PICTURED: Omaha City Council President Ben Gray presenting award to Cindy Vanek)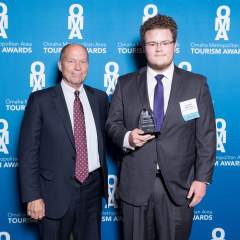 Outstanding Guest Services at a Hotel

Winner: Christian Hiltbrunner with Courtyard by Marriott at the Beardmore Event Center
While his job title is Guest Services, Christian is often found helping banquet set-up, housekeeping, maintenance, and the Bistro, the hotel restaurant. He has been awarded Employee of the Month on multiple occasions. Christian is currently producing a series of instructional videos for the hotel's staff explaining common maintenance issues, all while working his regular job. Christian always has a positive attitude and a smile on his face. (PICTURED: Commissioner Jim Warren, Vice Chair of the Sarpy County Board presenting award to Christian Hiltbrunner)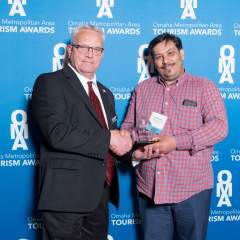 Restaurant/Catering - Best Heart of the House

Winner: Zead Basbos with Embassy Suites
Regardless if it is a dinner for 20 or a dinner for 2,000, Zead (Zee-odd) always gets the job done. He comes to work early, covers shifts for others, and doesn't mind staying late when the job demands. Zead (Zee-odd) has been working hard to learn English since he started more than a year ago, because he says he wants to help in every way and in every kitchen position. He exudes team work and pride in his property, his team and his position as Kitchen Steward. (PICTURED: Tim Wichman, Chair of the Pottawattamie County Board of Supervisors presenting award to Zead Basbos)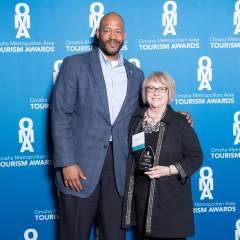 Outstanding Volunteer

Winner: Gayle Strickland, community volunteer
After retiring from teaching for more than 30 years, Gayle now devotes her time to making the world a better place. A former city council member in Oakland, she helped organize the Southwest Iowa Arts Tour, and Oakland's Junkapolooza, a vintage & antique festival that brings visiting treasure hunters to the area. Gayle was also the heart-and-soul visionary behind developing a green-space garden next to the Nishna Heritage Museum, with a mural that attracts visitors and tourism to the town every year. (PICTURED: Commissioner Chris Rodgers, Chair of the Douglas County Board presenting award to Gayle Strickland)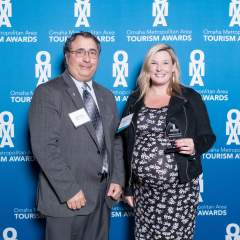 Outstanding Service in Attraction Operations

Winner: Brittany Thornton with Metropolitan Entertainment & Convention Authority
CHI Health Center Omaha is known for hosting a wide variety of events and Brittany plays a huge role in the success of many. As the senior event manager, she understands the nuances and intricacies of orchestrating international events such as the annual Berkshire Hathaway Shareholders meeting, as well as daunting requests like an Olympic size pool in the arena. She is known for her wealth of knowledge, meticulous organization and steady leadership. Britany has the ability to turn her client's vision into a reality. (PICTURED: Kyle Fisher, Chair of the Sarpy County Visitor Committee presenting award to Brittany Thornton)
2019 Tourism Hero of the Year
WINNER: DENNIS PATE
Pate was selected as this year's "Tourism Hero" because of his contributions in making Omaha's zoo the number one tourist attraction in the state, and one of the best zoos in the world. Through his vision and leadership, the zoo has created new experiences such as: the 28-acre African Grasslands exhibit with breathtaking panoramic views of grasslands and African wildlife; Alaskan Adventure, an Alaskan-themed splashground featuring dancing waters that spray through and over more than 75 bronze sculptures; the Bay Family Children's Adventure Trails which includes a raft crossing, a three-story tall treehouse, and water features designed for play; and Asian Highlands, to be completed this spring, which will bring a diverse collection of animals including red panda, sloth bear, white-naped cranes, Amur tiger, Sichuan takin, Chinese goral, snow leopard, Pere David deer and Indian rhino to the zoo.
(PICTURED: Visit Omaha Executive Director Keith Backsen, Sarpy County Tourism Director Fred Uhe, President of the Metropolitan Hospitality Association Steve Hilton, 2019 Tourism Hero of the Year Dennis Pate, Council Bluffs Convention & Visitors Bureau Executive Director Mark Eckman)
CHECK OUT THE VIDEO BELOW HONORING DENNIS PATE
Brought to you by These Partner Destinations: